Organized by Daegu Gyeongbuk Textile Industry Association and EXCO, and hosted by Daegu Metropolitan City, Sleep Festa is a "sleep-focused exhibition" that celebrated its second anniversary this year. This year, 170 sleep-related companies, including high-end bedding companies, participated to showcase high-quality bedding and sleep-related products as well as healthy sleep solutions.
Sleep is important and it was well represented
In general, the optimal sleep time for newborns is 14 to 17 hours a day, and this optimal sleep time gradually decreases as we get older. So the optimal sleep time for adults would be around 7-9 hours.
So what happens if you get less or more than the optimal amount of sleep? Not getting enough sleep or sleeping too much can affect your health and daily life, both physically and mentally.
From a physical point of view, your risk of exposure to various diseases such as weight gain and obesity. But also weak immune function, high blood pressure, stroke, diabetes and heart disease.
From a mental and behavioral perspective, lack of sleep can lead to decreased performance, shorter attention span, increased frequency of errors, and depression.
Conversely, studies have also shown that sleeping too much can cause obesity due to lack of movement and lower endorphin secretion, which can also lead to depression.
Ultimately, optimal sleep depends on sleep quality rather than sleep quantity. The exhibition where you could discover answers for optimal sleep was Sleep Festa.
Sleep Festa Daegu – A Growing Fair
The number of companies participating in Sleep Festa 2022 doubled and exhibit space increased by 158% over the previous year. This represented the growing interest in Sleep Festa and the bedding and sleep industry.
Sleep Festa 2022 included six exhibition areas:
Special for Daegu-Gyeongbuk Bedding
For trends and promotions
For medical sleeping pills
Smart sleep and health care
Life and Furniture
Non-medical sleeping pills
We met a lot of startups there and selected 6 of them. This selection was interviewed and then received the Best Of Sleep Festa award in partnership with Aving News and Le Café Du Geek. Here is our selection and our articles:
We also interviewed Chairman Lee Suk-Ki of Daegu Gyeongbuk Textile Weaving Association, here is the full video:
Daegu-Made
In order to become a leading bedding cityDaegu City is promoting the Daegu specialty bedding industry promotion project and the acupuncture enterprise development project.
Currently, Daegu Chimjang's industry accounts for 27% of the country's number of enterprises, making it the country's largest city in terms of production and distribution. For this reason, high quality products are produced in Daegu, from bedding materials to finished products.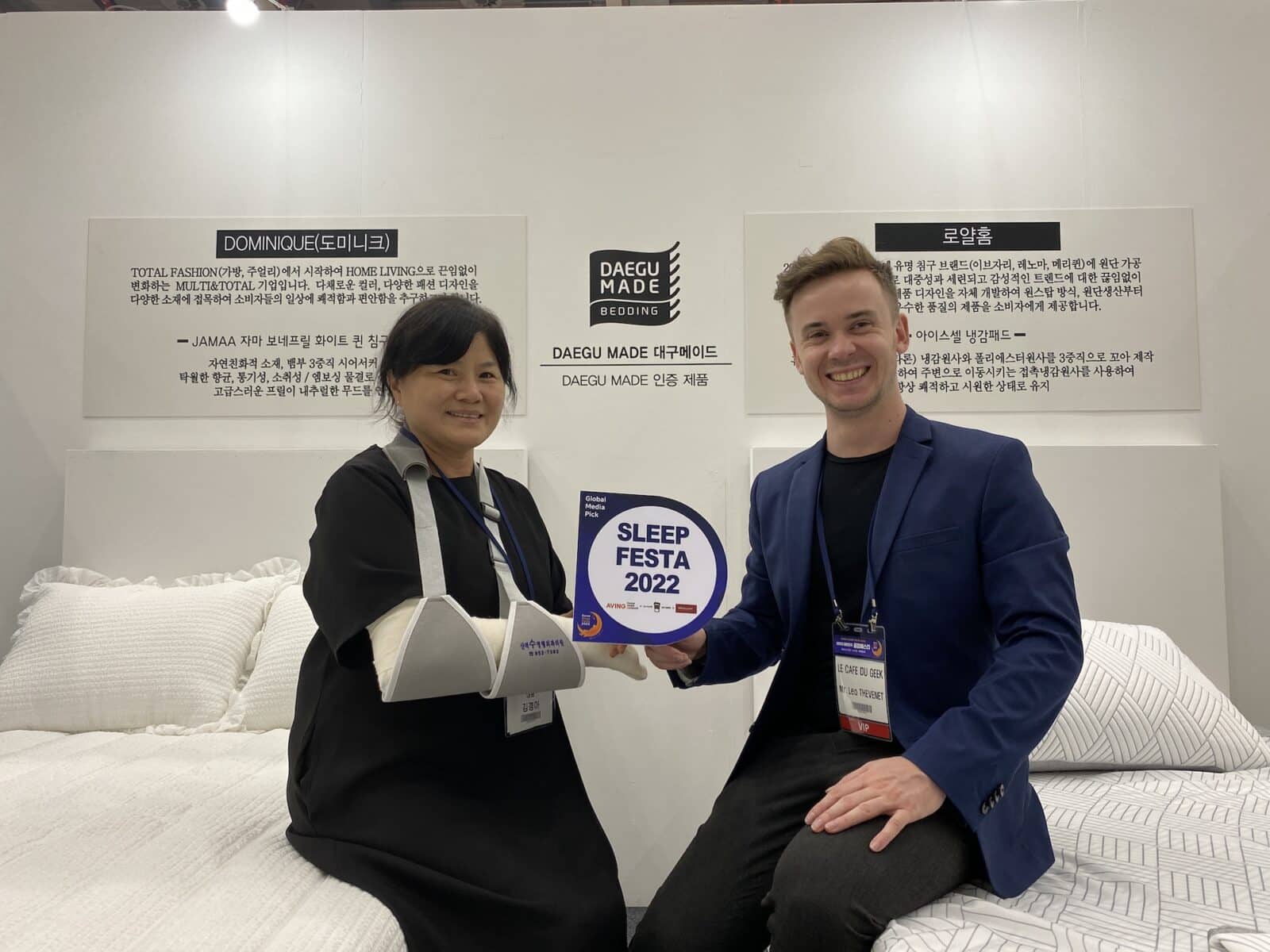 Based on this, Daegu City, Daegu Gyeongbuk Textile Industry Association and Korea Fashion Industry Research Institute strive to increase the added value and improve the quality of locally made bedding products. The strategy is to elevate the acupuncture industry to the global level by supporting the development of prototypes. But also brand development, global marketing support and expansion of export channels.
First, the Daegu-Gyeongbuk Textile Industry Association established a local production system through cooperation between the textile and bedding industries in Daegu last year. In addition, to expand the domestic high value-added market and overcome the reverse phenomenon of export trade, they strive to promote Daegu Chimjang. Thanks to this, 10 companies were supported to develop high-end products and customized prototypes.
My House – A success story of the label
The objective of this project is to develop flagship products and promote brand advancement through technical support, marketing support and networking support. Some companies are already seeing significant sales growth. A typical example is My House. My House has developed fabric for bedding through research on weaving design and processing with antibacterial and deodorant functions. And is currently in the process of filing a patent. Thanks to the marketing support of bedding products, sales of My House increased by 315%. Thus, going from €50,000 in 2018 to €150,000 last year.
The city of Daegu also plans to establish a DAEGU MADE certification system to ensure the quality and reliability of local bedding products at home and abroad. The plan is to improve the image of Daegu's bedding products. This through the certification system and using it as a driving force to enhance the competitiveness of the quality of local bedding products.