A new offer, called Starlink Maritime, has been unveiled. The SpaceX service now sells satellite internet access to browse the web from your boat.
What if, to telecommute, you set sail aboard your boat? This dream can already become reality with Starlink Maritime. The new offer of SpaceX's satellite internet access service offers you a connection to browse the Web, in the open sea.
On its website, Elon Musk's company promises "high-speed, low-latency internet at sea, up to 350 Mbit/s". But faced with "terrestrial" subscriptions, users will face costs that have been significantly increased.
70% cost reduction
Starlink Maritime is offered at a rate of 5,000 dollars (5,000 euros) per month. Above all, you have to reckon with the purchase of two satellite antennas billed at 10,000 dollars in total. A price much higher than the residential plan, which is "only" 99 euros per month, to which is added a material cost of 634 euros.
Although accessible to all, the offer is above all designed to appeal to maritime professionals. Starlink Maritime aims to be a tool for maritime carriers. The company also provides details on its own use of its service.
SpaceX claims to have reduced the costs of broadcasting its rocket landings live by 70%, while increasing throughput by 5,900%. From now on, the ten ships operated to recover the rockets when they return after launch spend 50,000 dollars per month, against 165,000 previously, for their internet connection. With the key, better images.
Global coverage in 2023
If Starlink Maritime is indicated as available now around the United States, Europe, Australia as well as Chile and part of Brazil, only American addresses seem today eligible for the offer.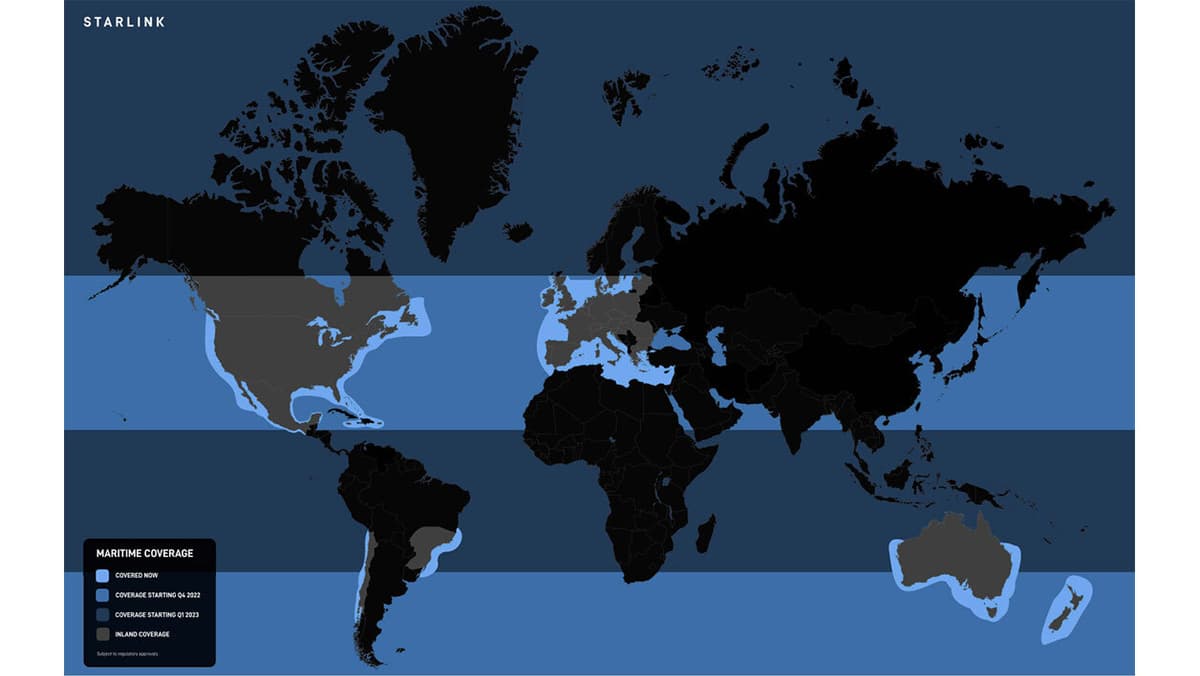 From the end of the year, Starlink promises coverage of part of the Atlantic Ocean, the Pacific Ocean and the waters of the South Pole. From the start of 2023, the entire globe will be covered by the service.
However, access to the service remains subject to local regulatory approvals. In France, Starlink was initially granted frequencies to provide its internet access in the country in February 2021. These authorizations were then lifted in April 2022 and finally restored in June.